Article successfully added.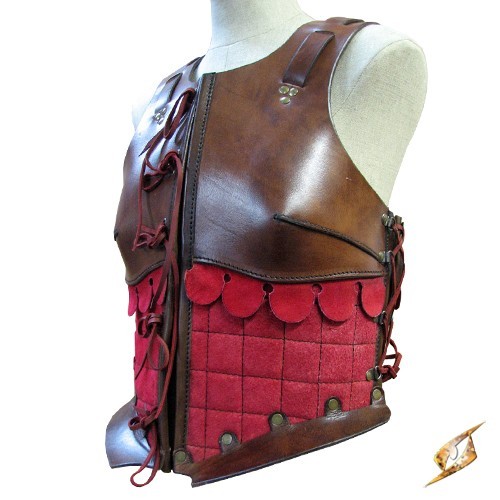 Product number:

11060145U
PLEASE NOTE: Discontinued in 2019. Pre-orders subject to stock availability. Dawn is still...
more
Product information "Female Leather Armour"
PLEASE NOTE: Discontinued in 2019. Pre-orders subject to stock availability.
Dawn is still an hour away, the sky still a deep blue as you don your Female Leather Armour and head out to the training grounds. You are a warrior and a loyal soldier, and you take your role seriously. Before the sun rises you will have practiced your sword strikes one thousand times.
Your muscles are perfected with the ingrained memory of those strikes. Your dedicated training makes combat as easy as breathing, and you look forward to testing your skills once more on the battlefield.
DETAILS
Epic Armoury's Female Leather Armour is a leather cuirass designed to protect the female torso while also providing great flexibility. The upper chestplate, shaped to the female body, is made from sturdy full-grain leather and covers the shoulder, chest, and under the arms. Soft split-leather covers the abdomen and back to allow great mobility, embellished with a squared stitching pattern and a scalloped edge along the top. A stiff full-grain leather flange is stitched to the lower edge to help turn blows away from the hips.
Wear the Female Leather Armour by adjusting the leather cords along the flanks and front opening, and the leather straps along the shoulders. This armour is fully compatible with other Epic Armoury leather and metal armour pieces. While designed to fit an Imperial setting, the style will also match a broad range of worlds and characters, allowing you the freedom to create your own unique style.
HISTORY
Historically looked down upon as a form of armour, as metal was preferred
Finely crafted leather cuirasses were often worn by high-ranking officers and officials, including several Roman Emperors
| | |
| --- | --- |
| Epic Circle: | Sovereign |
| Height: | 40cm, 45cm, 37cm |
| Width: | 44cm, 46cm, 51cm |
| Weight: | 950g, 1200g, 1400g |
| Material: | Leather |
| Maintenance: | Use leather wax regularly to prolong product life. Only clean using proper leather soap, following instructions closely. |
Related links to "Female Leather Armour"