Article successfully added.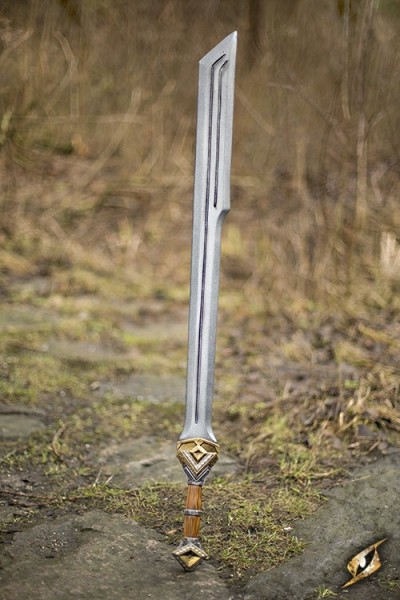 This product is currently not available.
Please inform me as soon as the product is available again.
Product number:

D19300140D

Manufacturer number

442501
Never go into battle before first tasting your favorite ale. That is the advice you would give...
more
Product information "Long Hybrid Dwarven Sword Single Edge105cm"
Never go into battle before first tasting your favorite ale. That is the advice you would give any of your fellow Dwarves, for you never know when this may be your last fight.
You slam your Dwarf Single Edge sword onto the table as you await the finest dark ale you know. The tavern was quiet before you walked inside, tense with the anticipation of a coming war, but you are loud and bring life back to its walls. You raise a toast to the barkeep and to any nearby, granting them glory on the battlefield before drinking deeply from your mug.
It would be a true shame to leave this world while thirsty.
DETAILS
Epic Armoury's Dwarf Single Edge is a latex-hybrid single-edged sword with a detailed handle. The sword is 105 cm long and has a 83 cm straight blade inspired by weapons of the mythological dwarven race. The intricate crossguard connects the interesting blade to the 10 cm handle cast and painted to look like real wood with metal embellishments.
Whether you are a dwarven soldier or simple miner, this Dwarf Single Edge sword is our highest quality gear due to its impressive durability and detail. The blade is made from closed cell foam around a fibreglass core and finished with a strong latex coating, while the handle is a polyurethane foam cast that allows for greater detail and no maintenance. This hybrid model sword will make you confident in the safety and appeal of your weapon on the battlefield.
INSPIRATION
Inspired by Dwarves, a German mythological creature that dwells deep in the earth
Dwarves are associated with wisdom, smithing, mining, and crafting
The modern term dwarf descends from the Old English word dweorg
A fuller, or the groove that runs the length of the blade, was added to weapons to lighten the blade while adding structural strength
| | |
| --- | --- |
| Maintenance: | Treat with Silicone Maintenance Spray after each use for best results |
| Depth: | 5cm |
| Width: | 10cm |
| Height: | 105cm |
| Material: | Injected Polyurethane, EVA, Latex |
| Weight: | 340g |
| Epic Circle: | Stalwart |
Related links to "Long Hybrid Dwarven Sword Single Edge105cm"