Article successfully added.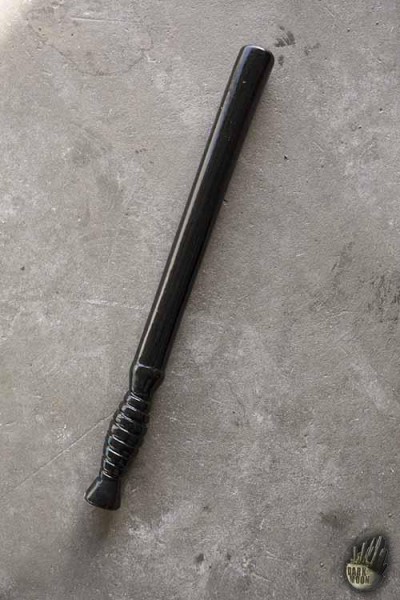 Product number:

17450140

Manufacturer number

403511
The trick is never to stay in one place for too long. Inevitably the undead will sniff you out...
more
Product information "Baton"
The trick is never to stay in one place for too long. Inevitably the undead will sniff you out of your hiding hole, and you'll find yourself cornered by an endless sea of flesh-hungry abominations. Unfortunately, while you're on the move, your last encounter emptied the last of your bullets. With an empty gun you're defenseless.
You take refuge in an abandoned police station, looking for a new weapon. Most people have thought the same thing, because the place is picked clean. You are lucky, however, as you stumble upon an overturned desk. Beneath the mess you find an intact Baton. Giving it a few test swings, you find that you like the balance. It will serve your needs for now.
DETAILS
Epic Armoury's Baton is a modern club based on one of the oldest weapons known to man--and we guarantee that it will also be a favourite in apocalyptic times. The Baton is 56 cm long with a 16 cm oval-shaped handle carved with a spiral pattern for extra grip. The Baton's pommel and crossguard are frustum-shaped, also designed to keep your grip firm on the weapon. The club itself is 40 cm long, and 2.5 cm wide at the base. The club widens to a diameter of 2.5 cm near the tip, balancing the baton for more powerful strikes.
Made from durable closed cell foam around a solid fibreglass core and finished with a strong latex coating, you can feel confident that your LARP weapon will provide the safety and appeal you want when crafting your post-apocalyptic kit.
HISTORY
An example of a weapon you might find after the world-as-we-know-it ends
Used as protection when you've inevitably run out of bullets for your gun
Original clubs made from wood were used in prehistoric times
Typically carried by law-enforcers for forced-compliance and self-defense
| | |
| --- | --- |
| Maintenance: | Treat with Silicone Maintenance Spray after each use for best results |
| Depth: | 6cm |
| Width: | 6cm |
| Height: | 56cm |
| Weight: | 140g |
| Material: | EVA, Latex |
| Epic Circle: | Dark Moon |
Related links to "Baton"