Article successfully added.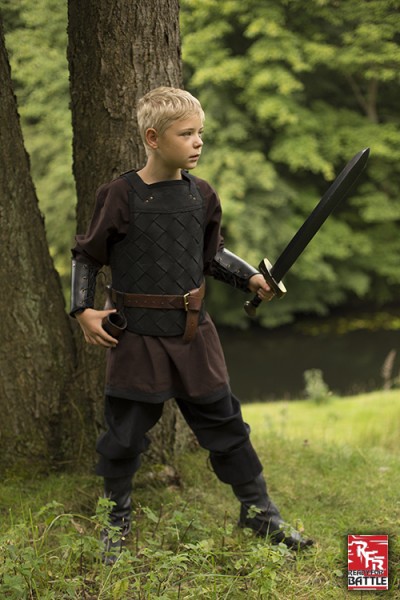 A sturdy weave of leather strips, this basic viking armour will give you the authentic look...
more
Product information "RFB Viking Leather Armour"
A sturdy weave of leather strips, this basic viking armour will give you the authentic look and some mild protection against the bitter winds whilst raiding...
... Not so much against swords or arrows but.
You are laughing too loud. You realize it must be scaring your enemy, because no one wants to face you on the frontline anymore. They think you are crazed. Maybe you are, because the adrenaline of being in a battle has left you feeling drunk with exhilaration.
If no one will come to you, it's time to bring the fight to them! One poor soldier desperately strikes at you and you feel the thud of his sword against your RFB Viking Leather Armour, but it hardly makes a scratch. You see the terror in his eyes as your laugh fills the field and you bring the strength of your axe down upon him.
You are Raynor Ironshood. Let them fear you. Let them all fear you.
DETAILS
This bestselling Ready-for-Battle Viking Leather Armour is an adorned leather cuirass that protects the torso on all sides. Made from chrome-tanned, plated leather bands set in a diagonal weave on the front, this armor is both a distinct and practical addition to your kit.
Attach the front to the separate back plate with split-leather straps fitted at the top and sides and secured with iron buckles on the back. These straps make this cuirass highly adjustable, allowing it to fit closely to the individual wearer. Along the edges of the front and back plate the armour is rimmed with soft split-leather, making it harder to deform with excessive use.
This Viking Leather Armour is fully compatible with other Epic Armoury leather and metal armour pieces. While designed to fit a Viking setting, the style will also match a broad range of worlds and characters, allowing you the freedom to create your own unique style.
Available in Black and Brown, and sizes Small, Medium, Large, and X-Large.
| | |
| --- | --- |
| Epic Circle: | Stalwart |
| Height: | 45cm, 50cm, 55cm, 51cm |
| Width: | 60cm, 78cm, 66cm, 72cm |
| Weight: | 1450g, 1550g, 1500g, 1400g |
| Material: | Leather |
| Maintenance: | Use leather wax regularly to prolong product life. Only clean using proper leather soap, following instructions closely. |
Related links to "RFB Viking Leather Armour"
Read, write and discuss reviews...
more
Customer evaluation for "RFB Viking Leather Armour"
Write an evaluation
Evaluations will be activated after verification.