Article successfully added.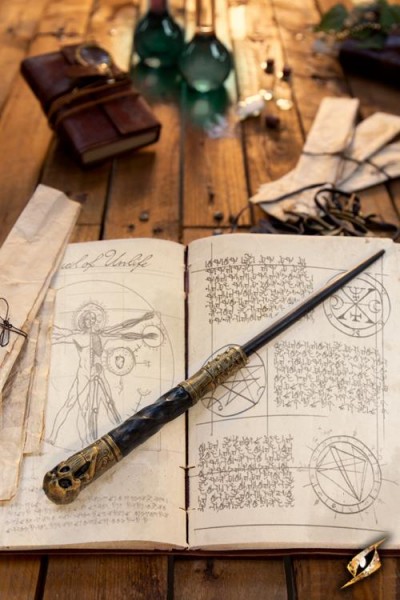 "You've become a monster, Leland!" Theobold cried out as the wild magics rushed around them...
more
Product information "Necromancer's Wand"
"You've become a monster, Leland!" Theobold cried out as the wild magics rushed around them "Dragging the noble from the very Heavens just to taunt someone that was once your brother in arms? Is there no depth of depravity you would at least shy away from?!"
Leland tapped the wand to his teeth and considered this for a moment. "Well, Theo, I've never created new sub prime derivative fiscal instruments..."
The Right Tool to Raise the Dead
Epic Armoury's Black Necromancer Wand is a 32cm wand crafted from dark intentions and evil deeds. Inspired by the most villainous of sorcerers, this wand has been infused with the personality of a necromancer, reflecting the spells of death contained within.
The Necromancer Wand is made from varnished wood and polyurethane foam. The handle itself is a foam cast that slides onto a black stick sitting 15cm into the foam sleeve. Your hand should feel comfortable around the foam sleeve's spiraled ergonomic shape, and there's a nubbed grip for an ideal finger rest. Intricately designed to look like a gold metal skull, the sleeve ends in a toothy grin--perhaps the last thing your next poor victim will see.
About Epic Armoury Wood Core Wands
Epic Armoury Wands are designed to be versatile and easy to use. Requiring little maintenance, these stylish wands are perfect for LARP or cosplay. The polyurethane foam grip is handpainted and highly detailed, fitting perfectly over a varnished wood wand. The wood and the grip can be separated, and can be interchanged between other Epic Armoury wood-core wands. This allows for better customization and the ability to replace a broken tip.
Inspiration
Necromancy is typically considered a dark magic, and can be used to create undead minions...or raise your own friends from the dead
Many wizards from fantasy fiction, such as in the Harry Potter series, require wands in order to perform their magic
Magic Wands within fiction are used as tools for wizards or as powerful magic items of mass destruction
| | |
| --- | --- |
| Epic Circle: | Stygian |
| Height: | 34cm |
| Width: | 3cm |
| Weight: | 40g |
| Material: | Injected Polyurethane, Wood |
Related links to "Necromancer's Wand"
Read, write and discuss reviews...
more
Customer evaluation for "Necromancer's Wand"
Write an evaluation
Evaluations will be activated after verification.