Article successfully added.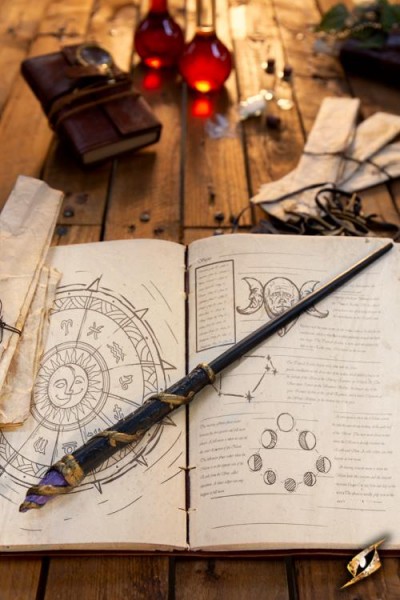 Product number:

18510300

Manufacturer number

431406
Jonathan found the Enchanter's Wand on the floor of the ballroom. "Mr. Norrell," he called...
more
Product information "Enchanter's Wand"
Jonathan found the Enchanter's Wand on the floor of the ballroom.

"Mr. Norrell," he called out to his mentor "I believe you have dropped this."
"I most certainly have not. Now throw that useless twig in the fire. We're attempting to bring magic back to England!"
A Student in Magical Academia
Epic Armoury's Black Enchanter Wand is a 35cm wand crafted from long hours of magical study and patience. Inspired by the most studious of magic users, this wand has been infused with the personality of a highly trained witch or wizard.
The Enchanter Wand is made from varnished wood and polyurethane foam. The handle itself is a foam cast that slides onto a black stick sitting 11.5cm into the foam sleeve. Your hand should feel comfortable around the foam sleeve's ergonomic shape, fitting nicely against the spiraling golden vines and embossed details. At the end of the wand, a golden vine secures a realistic purple gemstone--likely the wand's conduit of power.
About Epic Armoury Wood Core Wands
Epic Armoury Wands are designed to be versatile and easy to use. Requiring little maintenance, these stylish wands are perfect for LARP or cosplay. The polyurethane foam grip is handpainted and highly detailed, fitting perfectly over a varnished wood wand. The wood and the grip can be separated, and can be interchanged between other Epic Armoury wood-core wands. This allows for better customization and the ability to replace a broken tip.
Inspiration
Enchantments are magical spells used by magical beings, often causing some sort of charm or bewitchment
Many wizards from fantasy fiction, such as in the Harry Potter series, require wands in order to perform their magic
Magic Wands within fiction are used as tools for wizards or as powerful magic items of mass destruction
| | |
| --- | --- |
| Epic Circle: | Ethereal |
| Height: | 34cm |
| Width: | 3cm |
| Weight: | 40g |
| Material: | Injected Polyurethane, Wood |
Related links to "Enchanter's Wand"