Article successfully added.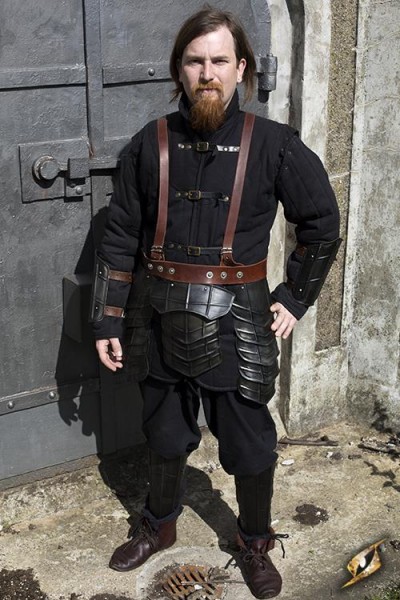 Intimidation. It's your main form of weaponry while facing the heroes, because it gives you...
more
Product information "Dark Drake Tassets"
Intimidation. It's your main form of weaponry while facing the heroes, because it gives you full control. When your enemies fear you, they are more likely to make fatal mistakes.
Your Dark Drake Armour is as dark as your intentions, hardened by the evil magic your subjects provide. As you withdraw your sword, sizing up the quivering soldier who feels brave enough to stand against you, you begin to laugh. This will be a very brief fight--if you can even call it that. The little man looks barely strong enough to hold up his hammer.
DETAILS
Epic Armoury's Dark Drake Upper Leg are tassets designed to protect the thigh and groin. The style is late medieval with rolled edged metal plates overlapping each other. Two sets of steel plates hang from the hips to cover the outer thighs. A third set of slimmer plates cover the groin area and provide some protection to the inner thighs. The set comes with a leather belt with suspenders to keep the piece in place. Each plate is treated with Epic Armoury's Epic Dark Metal coat, which gives the armour a rugged, antique finish which matches its reptilian scale design.
The Dark Drake Upper Leg armour is designed to match Epic Armoury's Dark Drake Armour, but is fully usable with other Epic Armoury metal products, giving you the freedom to customize your character's costume. Made of 1 mm thick galvanized mild steel and top-grain leather straps and fittings, this armour piece is built to withstand the abuse of a LARP or reenactment with regular leather and metal armour care.
HISTORY
Plate armour became more popular as firearm technology became more prevalent during the 13th century
Historically designed with sculpted ridges and overlapping plates to provide reinforced protection and to deflect attacks on a chaotic battlefield
| | |
| --- | --- |
| Epic Circle: | Stygian |
| Height: | 45cm, 35cm |
| Width: | 74cm, 94cm |
| Weight: | 2200g, 3200g |
| Material: | 19ga Mild Steel |
| Maintenance: | Regularly apply lanolin based lubricant for best results. |
Related links to "Dark Drake Tassets"
Read, write and discuss reviews...
more
Customer evaluation for "Dark Drake Tassets"
Write an evaluation
Evaluations will be activated after verification.