Article successfully added.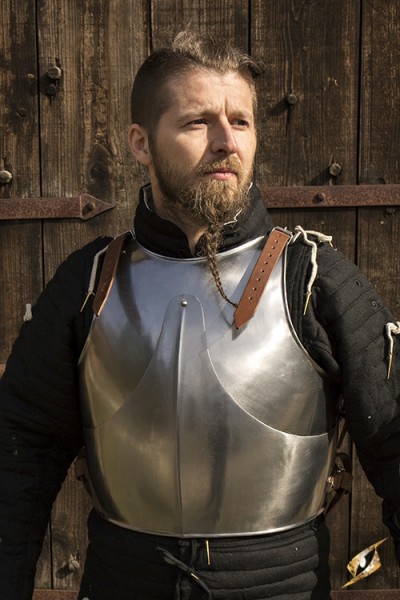 You look upon your leading officer as he makes his way down the line of your fellow soldiers....
more
Product information "Milanese Armour"
You look upon your leading officer as he makes his way down the line of your fellow soldiers. Your fate and the fate of your entire unit is dependent on this veteran's word, and you find yourself relieved not to shoulder such a heavy burden.
"We must fight!" your officer shouts for all to hear. You adjust your Milanese Armour, double checking the buckles as you listen to him continue. "For our homes and for our families, we will fight until we can fight no more!" With a resounding cheer, your fellow soldiers ready themselves for the charge. You withdraw your weapon, eager and afraid all at once.
The battle has begun.
DETAILS
Epic Armoury's Milanese Armour is a simple low-fantasy piece of armour protecting the front of the torso and abdomen. The plate rests at the waist and is sculpted to fit the body and add structural strength to the steel. This steel riveted piece has been polished to a high-gloss finish to appeal to the knights in shining armour.
The Milanese Armour is embellished with a beveled plate on the chest to deflect attacks. It is fully usable with Epic Armoury's Faulds and Tassets and well as other metal work products, giving you the freedom to customize your character's costume. Made of 1 mm thick mild steel and top-grain leather straps and fittings, this armour piece is built to withstand the abuse of a LARP or reenactment with regular leather and metal armour care.
HISTORY
Historically designed with sculpted ridges and overlapping plates to provide reinforced protection and to deflect attacks on a chaotic battlefield
Plate armour became more popular as firearm technology became more prevalent during the 13th century
| | |
| --- | --- |
| Epic Circle: | Sovereign |
| Height: | 41cm, 38cm, 44cm |
| Width: | 61cm, 81cm, 71cm |
| Weight: | 3300g, 3940g, 4840g |
| Material: | 19ga Mild Steel |
| Maintenance: | Regularly apply lanolin based lubricant for best results. |
Related links to "Milanese Armour"