Article successfully added.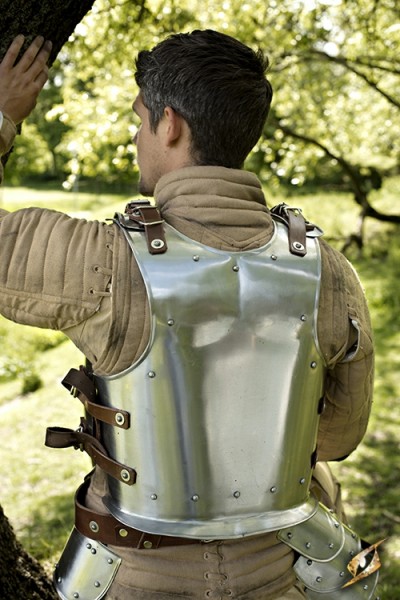 Product number:

12860145

Manufacturer number

IF-200610S
You look upon your leading officer as he makes his way down the line of your fellow soldiers....
more
Product information "Back Plate Warrior"
You look upon your leading officer as he makes his way down the line of your fellow soldiers. Your fate and the fate of your entire unit is dependent on this veteran's word, and you find yourself relieved not to shoulder such a heavy burden.
"We must fight!" your officer shouts for all to hear. You adjust your Warrior Backplate, double checking the buckles as you listen to him continue. "For our homes and for our families, we will fight until we can fight no more!" With a resounding cheer, your fellow soldiers ready themselves for the charge. You withdraw your weapon, eager and afraid all at once.
The battle has begun.
DETAILS
Epic Armoury's Warrior Backplate is a low-fantasy piece of armour that matches Epic Armoury's Warrior Breastplate, protecting the back and spine. Sculpted to fit the body and add structural strength to the steel, this steel riveted piece has been polished to a high-gloss finish to appeal to the elven and human knights in shining armour. At the lower rim, the plate has a small flange to deflect blows away from the lower part of the body.
The Warrior Backplate is neutral in style and fully usable with all Epic Armoury breastplates, giving you the freedom to customize your character's costume. Made of 1 mm thick mild steel and top-grain leather straps and fittings, this armour piece is built to withstand the abuse of a LARP or reenactment with regular leather and metal armour care.
HISTORY
Historically designed with a rounded shape to disperse the force of attacks on a chaotic battlefield
Plate armour became more popular as firearm technology became more prevalent during the 13th century
| | |
| --- | --- |
| Epic Circle: | Sovereign |
| Height: | 35cm, 42cm |
| Width: | 58cm, 55cm, 47cm |
| Weight: | 2000g, 1500g, 2250g |
| Material: | 19ga Mild Steel |
| Maintenance: | Regularly apply lanolin based lubricant for best results. |
Related links to "Back Plate Warrior"