Article successfully added.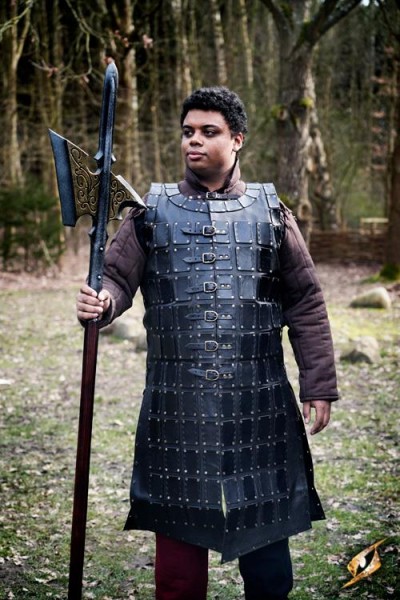 You look upon your leading officer as he makes his way down the line of your fellow soldiers....
more
Product information "Leather Brigandine"
You look upon your leading officer as he makes his way down the line of your fellow soldiers. Your fate and the fate of your entire unit is dependent on this veteran's word, and you find yourself relieved not to shoulder such a heavy burden.
"We must fight!" your officer shouts for all to hear. You adjust your Leather Brigandine, double checking the buckles as you listen to him continue. "For our homes and for our families, we will fight until we can fight no more!" With a resounding cheer, your fellow soldiers ready themselves for the charge. You withdraw your weapon, eager and afraid all at once.
The battle has begun.
DETAILS
Epic Armoury's Leather Brigandine is leather armour reinforced with heavy leather plates designed to protect the entire torso, upper thighs and groin. Made from full-grain leather and brass coated rivets, this menacing waistcoat is both lightweight and durable. Secure this brigandine with five heavy leather straps and brass buckles down the front, further adjustable by tightening leather cords along the flanks between the armpit and midthigh.
The Leather Brigandine is fully compatible with other Epic Armoury armours, and its distinctive but low-fantasy style allow it to be used across games and characters. With the proper leather care, you can expect this armour to withstand the abuse of a LARP or reenactment for a long time!
HISTORY
Worn over a gambeson or coat of chainmail by soldiers ranging from archers to knights
Came into wide use during the 1400s, but this particular style was more popular in the 16th century
Provided more mobility, but less protection than plate armour
| | |
| --- | --- |
| Epic Circle: | Sovereign |
| Height: | 110cm, 100cm, 120cm |
| Width: | 60cm, 50cm, 70cm |
| Weight: | 2400g, 2550g, 3350g |
| Material: | Leather |
| Maintenance: | Use leather wax regularly to prolong product life. Only clean using proper leather soap, following instructions closely. |
Related links to "Leather Brigandine"