Article successfully added.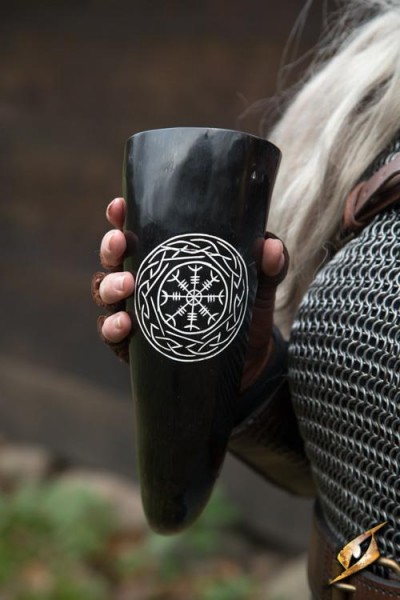 Product number:

21110100

Manufacturer number

723818
THIRST QUENCHER Epic Armoury's Aegishjalmur Horn is a drinking vessel designed to hold half a...
more
Product information "Aegishjalmur Drinking Horn"
THIRST QUENCHER
Epic Armoury's Aegishjalmur Horn is a drinking vessel designed to hold half a litre of your preferred drink. Feel the strength & valour flow through you when you hold this authentic bull horn in your hand, raise a toast and tell your war stories. The product is made of genuine horn harvested from the Indian water buffalo and handcrafted. This specific design is adorned with a beautiful etched-in symbol inspired by an old Icelandic stave. The outside is polished to perfection and is smooth to the touch, while the inside is polished and treated for food consumption. It comes with a wrought iron stand for displaying or just purely practical for holding the horn
Enjoy cool and room temperature liquids in your drinking horn while remaining in character, hiding away the unsightly plastic bottles. Our drinking horns are a great addition to markets and camps. With the proper care, you can expect your Aegishjalmur Horn to last many long years. Remember not to use it for hot drinks, as the heat will cause the horn to change form. Since this product is made of a natural material, every horn product is unique, and the colour may vary from the shown picture.
HISTORY
Ancient Greeks and Romans were known to use horns for drinking vessels
The ancient Greek term for a drinking horn was simply keras, which means 'horn'
In the prose Edda, Thor is challenged to drink from a horn that unknown to him contains all the seas. He manages to drink a remarkable part of its content and thereby scares Útgarða-Loki and his kin.
CARE INSTRUCTIONS
Natural horn products are ABSOLUTELY NOT DISHWASHER SUITABLE.
To clean, place in warm soapy water, and brush gently with a bottle brush. With use, the wax may begin to peel back from the wall naturally. It can easily be re-adhered by adding more wax. Purchase a block of pure bees wax and gently melt it onto the affected area, thumbing the area closed and sealed again.
Cracks in horn may be fixed with the application of dish-washer safe "ModPodge", available on request at your local Spotlight or craft store.
Do not use for hot beverages. Do not use for alcoholic beverages higher than 20% ABV. Do not place in boiling liquid or put boiling liquid inside horn. Do not drop. Consume contents responsibly.
| | |
| --- | --- |
| Epic Circle: | Stalwart |
| Weight: | 370g |
| Material: | Natural Animal Horn |
| Maintenance: | Hand wash only |
Related links to "Aegishjalmur Drinking Horn"