Article successfully added.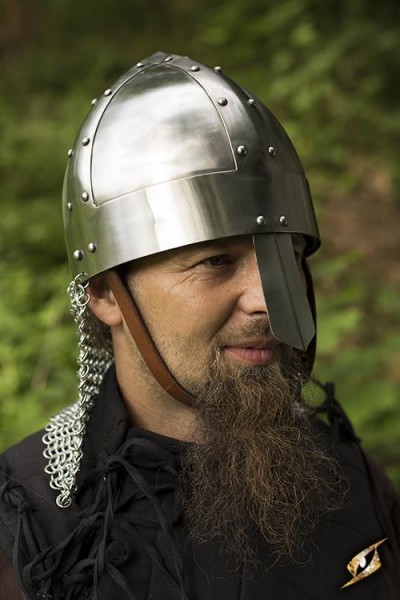 Product number:

20123850U
It's all raiding up the front, party down the back. You are laughing too loud. You...
more
Product information "Viking Spangenhelm"
It's all raiding up the front, party down the back.
You are laughing too loud. You realize it must be scaring your enemy, because no one wants to face you on the frontline anymore. They think you are crazed. Maybe you are, because the adrenaline of being in a battle has left you feeling drunk with exhilaration.
If no one will come to you, it's time to bring the fight to them! One poor soldier desperately strikes at you and you feel the thud of his sword against your Viking Spangenhelm, but it hardly makes a scratch. You see the terror in his eyes as your laugh fills the field and you bring the strength of your axe down upon him.
You are Raynor Ironshood. Let them fear you. Let them all fear you.
DETAILS
Epic Armoury's Viking Spangenhelm is a skull cap helmet inspired by by the Vikings of the early middle ages. Featuring a cotton inlay, reinforced cap, 10 cm nose plate and chainmail aventail, this helm offers significant protection while also remaining more comfortable and lightweight than a full helm. The chainmail aventail hanging from the back of the helmet protects the ears and neck while also allowing easy head movement from side to side.
Secure the Viking Spangenhelm by tightening the leather strap beneath the chin, keeping the helmet in place. Made of 1 mm thick mild steel and top-grain leather straps and fittings, this armour piece is built to withstand the abuse of a LARP or reenactment with regular leather and metal armour care.
HISTORY
Used since the end of the Roman Empire well into the medieval period
Helmet style was popular amongst the Franks, Goths and the Byzantine Empire
| | |
| --- | --- |
| Epic Circle: | Stalwart |
| Height: | 36cm |
| Width: | 60cm circumference, 65mm |
| Weight: | 2000g, 1800g |
| Material: | 19ga Mild Steel |
| Maintenance: | Regularly apply lanolin based lubricant for best results. |
Related links to "Viking Spangenhelm"