Article successfully added.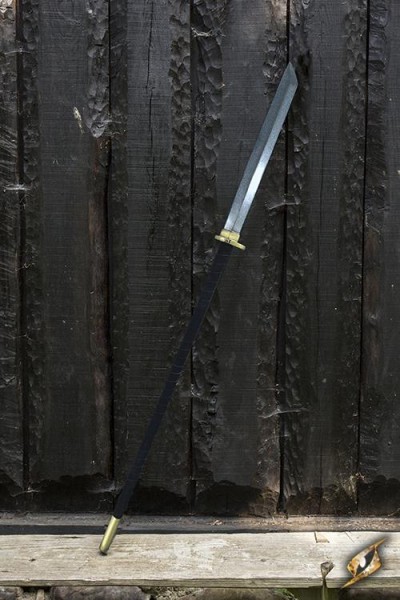 Please inform me as soon as the product is available again.
Product number:

16320160

Manufacturer number

402817
Your Naginata was handed to you by your master, many years ago. It was a bittersweet moment for...
more
Product information "Spear Naginata"
Your Naginata was handed to you by your master, many years ago. It was a bittersweet moment for you, because while it meant you overcome all obstacles in your training, it also meant it was time to set out on your own.
You find the soft leather along the handle comforting, your hand finding its usual well-worn grip. You look beyond the campfire where a fresh fish now cooks, sizzling in the heat, looking to the flickering shadows along the treeline. You have the sense that tonight you and your spear may once again be tested as you hear the unmistakable snap of a twig, your grip tightening in anticipation.
DETAILS
Epic Armoury's Spear Naginata is a 180 cm latex polearm inspired by the samurai of traditional Japan. The Spear Naginata's 60 cm single-edged blade is attached to a split-leather wrapped pole, allowing you to stab, slash, and parry with alacrity. A large oval crossguard adds to the Asian design, along with a matching pommel handpainted to look like metal.
Made from durable closed cell foam around a fibreglass core and finished with a strong latex coating, you can feel confident that your LARP weapon will provide the safety and appeal you want when crafting your Asian-inspired kit.
Available in Gold, Silver, and Copper.
HISTORY
A form of the spear has been used for hunting for at least 400,000 years
Spears were the most common form of weaponry during the Stone Age, and remained popular until firearms were introduced
This particular design is similar to a naginata, a Japanese weapon that included a single-edged blade attached to the end of a pole
| | |
| --- | --- |
| Material: | Leather, EVA, Latex |
| Maintenance: | Treat with Silicone Maintenance Spray after each use for best results |
| Depth: | 6cm |
| Width: | 8cm |
| Height: | 180cm |
| Weight: | 600g |
| Epic Circle: | Ancestral |
Related links to "Spear Naginata"