Article successfully added.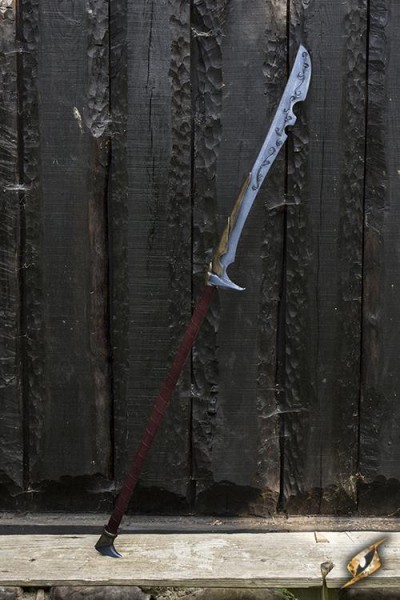 Product number:

16390160

Manufacturer number

402824
Your elven ears hear the rustle of footsteps behind you. A smile crosses your delicate lips as...
more
Product information "Lorian Glaive"
Your elven ears hear the rustle of footsteps behind you. A smile crosses your delicate lips as you realize a stranger is attempting to sneak up on someone as lithe and alert as you. You are the kindred of the immortals, having honed your skills for hundreds of years. No normal mortal being can surprise you.
"Come out of hiding," you call over your shoulder. "I know you are there."
Again your elven ears pick up the faintest noise, and as you hear the 'thwap!' of an archer's bow, you spin and deflect the incoming arrow with your Lorian Glaive. It appears some lesser creature is about to receive an important lesson about attacking an elf as powerful as you.
DETAILS
Epic Armoury's Lorian Glaive is a 195 cm latex polearm specifically designed as part of the Elven Universe. The Lorian Glaive has a long, single-edged curved blade fitted to a pole, and was inspired by historical glaives with an elegant touch. Handpainted and sculpted, the 90 cm blade is detailed with vine-like carvings, matching the golden foliage and the thorn shaped crossguard and pommel. The haft is 95 cm long and wrapped in soft brown split-leather for a secure and comfortable grip.
The Lorian Glaive is designed to pair with Epic Armoury's other Elven Universe weaponry and costuming, but can be mixed and matched to suit your needs. Made from durable closed cell foam around a fibreglass core and finished with a strong latex coating, you can feel confident that your LARP weapon will provide the safety and appeal you want when crafting your kit.
INSPIRATION
Lorian is a English girl name that refers to the laurel tree, which is symbolic of honor and victory
Elves were originally a creation of Germanic mythology and folklore
Lean and elegant style of blade inspired by high-fantasy genre games such as Dungeons & Dragons and J.R.R. Tolkien's Lord of the Rings series
| | |
| --- | --- |
| Material: | Leather, EVA, Latex |
| Maintenance: | Treat with Silicone Maintenance Spray after each use for best results |
| Width: | 9cm |
| Depth: | 6cm |
| Height: | 195cm |
| Weight: | 950g |
| Epic Circle: | Ethereal |
Related links to "Lorian Glaive"