Article successfully added.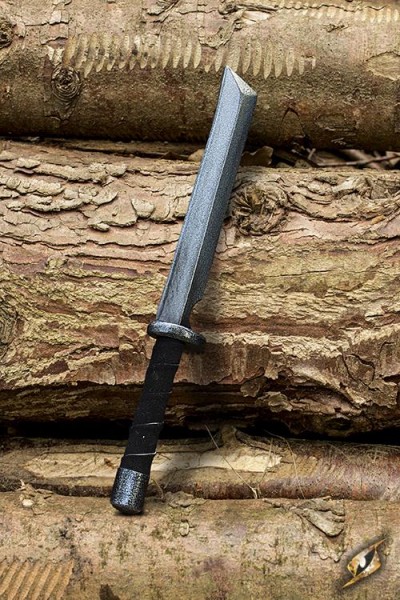 Please inform me as soon as the product is available again.
The best made blades are forged by the most skilled swordsmiths, the metal worked with such...
more
Product information "Tanto"
The best made blades are forged by the most skilled swordsmiths, the metal worked with such precision and care that the edge can cut through flesh so cleanly that a person might not even know they are dead.
You have commissioned a swordsmith to craft you a Tanto. Before he is paid you want to be certain it is a properly made blade, and so you conduct a test. You produce a silken sheet, allowing it to descend lightly onto the Tanto's edge. The sheet is cut cleanly, not a thread mismatched.
The blade is perfect.
DETAILS
Epic Armoury's Tanto is one of the smaller latex weapons in the Asian Universe collection. Inspired by a historical weapon of Japan, the Tanto goes perfectly with a samurai's set of swords. The 26 cm is straight with a single-edge, meeting a small oval crossguard that protects the 10 cm handle wrapped in split-leather.
Made from durable closed cell foam around a fibreglass core and finished with a strong latex coating, you can feel confident that your LARP weapon will provide the safety and appeal you want when crafting your Asian-inspired kit.
HISTORY
Traditionally used by samurai of feudal Japan
Designed to be drawn from the sheath quickly to accommodate combat that required fast response times
Paired with a katana or wakizashi by samurai to display social power and personal honor
| | |
| --- | --- |
| Epic Circle: | Ancestral |
| Height: | 40cm |
| Width: | 6cm |
| Weight: | 120g |
| Material: | Leather, EVA, Latex |
| Maintenance: | Treat with Silicone Maintenance Spray after each use for best results |
Related links to "Tanto"
Read, write and discuss reviews...
more
Customer evaluation for "Tanto"
Write an evaluation
Evaluations will be activated after verification.