Article successfully added.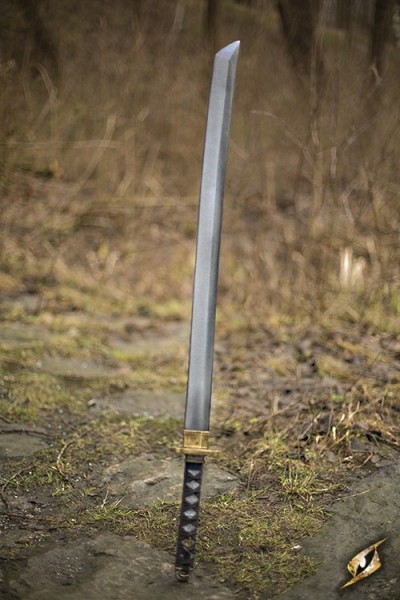 Please inform me as soon as the product is available again.
Product number:

18960155

Manufacturer number

442504
Your Dai Katana was handed to you by your master, many years ago. It had been a bittersweet...
more
Product information "Hybrid Dai Katana 100cm"
Your Dai Katana was handed to you by your master, many years ago. It had been a bittersweet moment for you, because while it meant you had overcome all obstacles in your training, it also meant that it was time to set out on your own.
You find the handle comforting, your hand finding its usual well-worn grip. As a traveling samurai--a ronin--your sword is your only consistent companion.
You look beyond the campfire where a fresh fish now cooks, sizzling in the heat, looking to the flickering shadows along the treeline. You have the sense that tonight you and your sword may once again be tested as you hear the unmistakable snap of a twig, your grip on the sword tightening in anticipation.
DETAILS
Epic Armoury's Dai Katana is a latex-hybrid sword featuring a distinctive Asian appearance with a squared guard. The sword is 100 cm long from tip to pommel, with a 70 cm slender, single-edged blade. The long detailed handle accommodates two hands and a firm, comfortable grip while on the battlefield. The handle is 20 cm long, cast and painted to look like fabric bound in menuki-style.
Whether you are a honorable samurai or sneaky ninja, this Dai Katana is our highest quality gear due to its impressive durability and detail. The blade is made from closed cell foam around a fibreglass core and finished with a strong latex coating, while the handle is a polyurethane foam cast that allows for greater detail and no maintenance. This hybrid model sword will make you confident in the safety and appeal of your weapon on the battlefield.
HISTORY
Traditionally used by samurai of feudal Japan
Designed to be drawn from the sheath quickly to accommodate combat that required fast response times
Paired with a "tanto" or "wakizashi" by samurai to display social power and personal honor
| | |
| --- | --- |
| Maintenance: | Treat with Silicone Maintenance Spray after each use for best results |
| Depth: | 5cm |
| Height: | 85cm |
| Width: | 10cm |
| Weight: | 280g |
| Material: | Injected Polyurethane, EVA, Latex |
| Epic Circle: | Ancestral |
Related links to "Hybrid Dai Katana 100cm"