Article successfully added.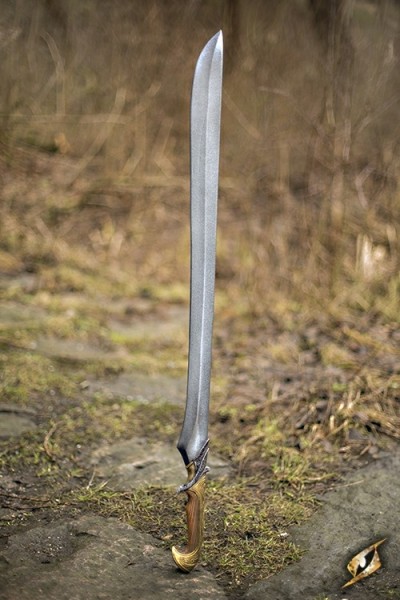 Product number:

19020155

Manufacturer number

442512
Your elven ears hear the rustle of footsteps behind you. A smile crosses your delicate lips as...
more
Product information "Long Hybrid Elven 105cm"
Your elven ears hear the rustle of footsteps behind you. A smile crosses your delicate lips as you realize a stranger is attempting to sneak up on someone as lithe and alert as you. You are the kindred of the immortals, having honed your skills for hundreds of years. No normal mortal being can surprise you.
"Come out of hiding," you call over your shoulder. "I know you are there."
As you hear the 'thwap!' of an archer's bow, you spin and dodge the incoming arrow, unsheathing your Elven Sword in one fluid motion. The fight has begun.
DETAILS
Epic Armoury's Elven Sword is a a latex-hybrid curved blade for the aspiring Elven hero or Dark Elven villain. The sword is 105 cm long from tip to pommel, with a gently curved 80 cm single-edged blade. The detailed crossguard curls back over the blade and toward the handle, shielding and protecting the hand. The handle is 11 cm long, cast and painted to look like real wood with inlaid metal embellishments.
Whether you are a elven soldier or hunter, this Elven Sword is our highest quality gear due to its impressive durability and detail. The blade is made from closed cell foam around a fibreglass core and finished with a strong latex coating, while the handle is a polyurethane foam cast that allows for greater detail and no maintenance. This hybrid model sword will make you confident in the safety and appeal of your weapon on the battlefield.
INSPIRATION
Originally a creation of Germanic mythology and folklore
Has been considered to be a magical creature with supernatural beauty, but this definition has varied throughout history
J.R.R. Tolkien's 20th century writings on the "Middle Earth Elf" has influenced how elves are seen today in the high-fantasy genre
| | |
| --- | --- |
| Maintenance: | Treat with Silicone Maintenance Spray after each use for best results |
| Depth: | 5cm |
| Width: | 10cm |
| Height: | 105cm |
| Material: | Injected Polyurethane, EVA, Latex |
| Weight: | 340g |
| Epic Circle: | Ethereal |
Related links to "Long Hybrid Elven 105cm"