Article successfully added.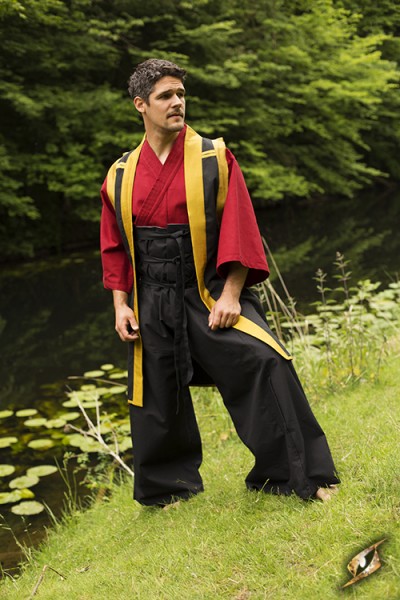 Donning your kimono and Jin Baori every morning is as much a ritual as a tea ceremony....
more
Product information "Jin-Baori"
Donning your kimono and Jin Baori every morning is as much a ritual as a tea ceremony. Carefully inspected and folded the night before, it is of the utmost importance that a samurai of your stature maintain a pristine uniform. To look sloppy implies that your discipline is lacking--and by that logic, your swordsmanship must be, too.
Instead of risking such dishonor to your reputation, you take the care that is necessary. There will not be a thread out of place.
DETAILS
The Epic Armoury Jin Baori is a traditional open overcoat to be worn over a high-ranking samurai's armour. Reaching from the shoulders to the mid-thigh and edged with broad golden bands along the collar and hem, this handsome garment adds detail and interest to an Asian-inspired costume. Fit shoulder armour outside the Jin-Baori by threading straps through the four eyelets located on the back and front. Each eyelet is clearly marked by golden edging, adding strength and aesthetic appeal.
On the back, the Jin-Baori has two slits allowing maximum mobility. These slits also allow a sword to hang comfortably from a belt beneath the coat. The garment is made of durable, but comfortable cotton with gold coloured cotton edging. Fully compatible with Epic Armoury's other Asian styles, the Jin-Baori is for the warrior looking to display his status and skill on the field of glory.
HISTORY
Historically made for armoured samurai to wear
Considered a type of haori, which is a kimono-like jacket that adds formality to an outfit
Traditionally a male garment until the Meiji period
| | |
| --- | --- |
| Epic Circle: | Ancestral |
| Height: | 115cm, 103cm, 91cm |
| Width: | 62cm, 54cm, 46cm |
| Weight: | 400g, 300g, 385g |
| Material: | Cotton |
| Maintenance: | Delicates wash only. Do not tumble dry. |
Related links to "Jin-Baori"
Read, write and discuss reviews...
more
Customer evaluation for "Jin-Baori"
Write an evaluation
Evaluations will be activated after verification.