Article successfully added.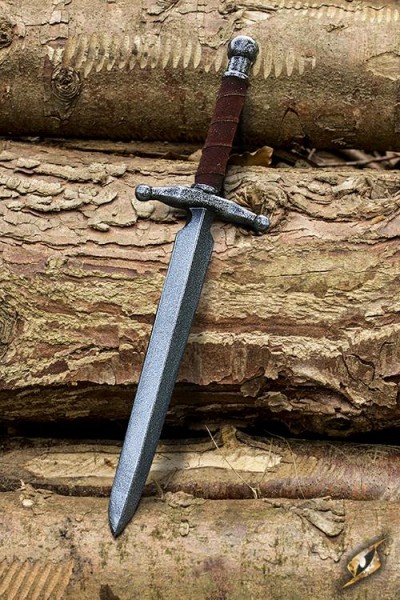 Please inform me as soon as the product is available again.
Your Knight's Code is one of valor, truth, and courage. You are tasked with defending the...
more
Product information "Stiletto"
Your Knight's Code is one of valor, truth, and courage. You are tasked with defending the innocent and the weak, and today your oath is being tested. A dark knight has destroyed both your shield and sword during a duel, and he advances upon you.
This honorless fiend believes he has won, but you will not allow yourself to perish without taking this evil with you in the process. You grab for your Stiletto still at your waist, and prepare to make a final desperate attempt to lodge the blade between the dark knight's armour.
Let your god guide your hand...for you have only one chance.
DETAILS
The bestselling Epic Armoury Stiletto is a solid dagger with a comfortable split-leather wrapped handle. The crossguard has a simple and elegant design, protecting the 13 cm grip when in use. When fighting enemies in heavy plate armour, daggers like this would have been worn by a knight and forced between the joints during combat.
Made from durable closed cell foam around a fibreglass core and finished with a strong latex coating, you can feel confident that your LARP weapon will provide the safety and appeal you want when crafting your authentic kit. Whether your business is running the realm, defending your homestead or backstabbing the higher-social classes, this multi-purpose tool is for you.
HISTORY
Worn at the waist and used as both a utility tool and a side-arm in battle
Historically designed for stabbing or cutting, while proving ineffective at slashing
Also known as the "lady's knife," because it could be easily hidden under skirts
| | |
| --- | --- |
| Epic Circle: | Sovereign |
| Height: | 45cm |
| Width: | 13cm |
| Weight: | 130g |
| Material: | Leather, EVA, Latex |
| Maintenance: | Treat with Silicone Maintenance Spray after each use for best results |
Related links to "Stiletto"
Read, write and discuss reviews...
more
Customer evaluation for "Stiletto"
Write an evaluation
Evaluations will be activated after verification.