Article successfully added.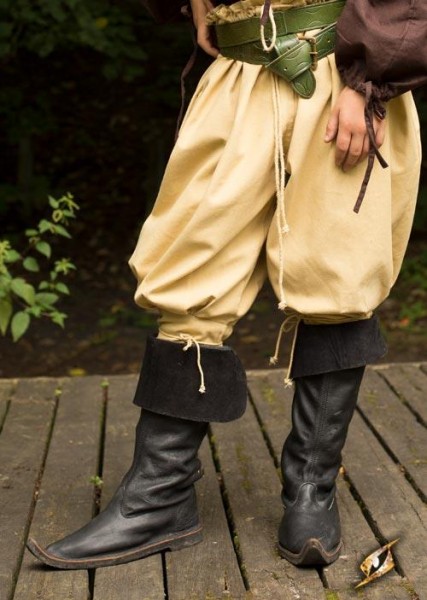 One of your greatest lessons was learning never to be caught, and it is the person who is...
more
Product information "Travelers Boots"
One of your greatest lessons was learning never to be caught, and it is the person who is always moving who survives. You travel from tavern to barn to abandoned shack, never growing attached or creating ties. You are the wandering adventurer.
Your many travels require a pair of Traveler Boots designed to last. You rely on these boots to keep you on your feet! Along with your sword, armour and your skill, you expect that you may yet live to be a wisened old veteran. You certainly have the survival instinct.
DETAILS
Epic Armoury's Traveler Boots are tall leather boots with soft, split-leather on the inside. These knee-high boots have a flexible cuff at the knee which can be flipped up or down for a classic pirate look. The soles come to a sharp point inspired by 12th century medieval fashion, pointing up at a jaunty 45° angle. Secure these boots using the adjustable lacing up the calf, set with rounded leather cords through brass eyelets.
Made from chrome-tanned split-leather, a flexible top-grain insole, and a 7mm thick natural rubber outsole, Epic Armoury's Traveler Boots are designed to complete your fantasy or historic costume. With reinforced stitching around the edges and reinforced leather at the heels, these boots are built to withstand extensive abuse with regular leather care.
Epic Armoury's boots are measured in European sizes.
HISTORY
Pointed shoes were considered popular throughout Europe on and off during the medieval period, finally falling out of fashion in the 1480s
Crakow or poulaine are other terms for a pointed shoe particularly popular in the 15th century
This shoe size calculator link may also be useful in determining your size. It isn't brand-specific, but allows you to convert between international sizing charts. All shoes we sell use European sizing (e.g. size range 36-47).
https://goodcalculators.com/shoe-size-converter/



Please note: due to the narrow and pointed toe, most people opt for a larger size than they usually wear.
| | |
| --- | --- |
| Epic Circle: | Defiant |
| Height: | 36cm, 37.5cm, 36.5cm, 35.5cm, 34.5cm, 33.5cm, 32cm, 35cm |
| Width: | 10.5cm, 9.5cm, 11cm, 10cm |
| Weight: | 1050g, 1000g, 950g |
| Material: | Leather |
| Maintenance: | Use leather wax regularly to prolong product life. Only clean using proper leather soap, following instructions closely. |
Related links to "Travelers Boots"