Article successfully added.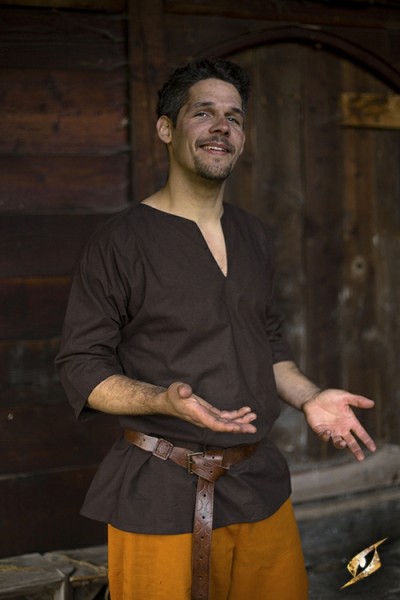 If you're wearing this shirt and two wolves decide to wake up and hang out with you, we have...
more
Product information "Odin Shirt"
If you're wearing this shirt and two wolves decide to wake up and hang out with you, we have some news that's going to ruin your day.
There are stories being told about you amongst the people. You are the viking who has slain over a thousand men. You put fear in your enemies with just a glance. Your aura of darkness freezes the hearts of anyone who looks you in the eye. And your favorite? Someone is saying you made a deal with a devil so that you may never die.
You will never tell them which might be true. Instead, as you sit in camp and wash the blood from your Odin Shirt, you simply listen...and smirk.
DETAILS
Epic Armoury's new Odin Shirt is an early Middle Age style garment with a long v-shaped neckline that is designed for both comfort and style. It falls just above the hip and is made from comfortable, dyed cotton. This shirt is an extremely versatile item that can be a costume all by itself--or work as a base layer in a more complicated design. The ¾ length sleeves have a loose fit perfect for the working class or soldier.
The style is moderate and can be used with a great variety of character styles. Match with other Epic Armoury clothes and armours to create your personalized look.
HISTORY
Shirts began as a form of undergarments for men in the 7th-10th centuries
Considered more of a Renaissance-era fashion for men with its billowy sleeves
Traditionally worn as an underlayer beneath a doublet or vest
| | |
| --- | --- |
| Epic Circle: | Stalwart |
| Height: | 80cm, 85cm, 70cm |
| Width: | 75cm, 65cm, 90cm |
| Weight: | 230g, 200g, 180g |
| Material: | Cotton |
| Maintenance: | Delicates wash only. Do not tumble dry. |
Related links to "Odin Shirt"
Read, write and discuss reviews...
more
Customer evaluation for "Odin Shirt"
Write an evaluation
Evaluations will be activated after verification.