Article successfully added.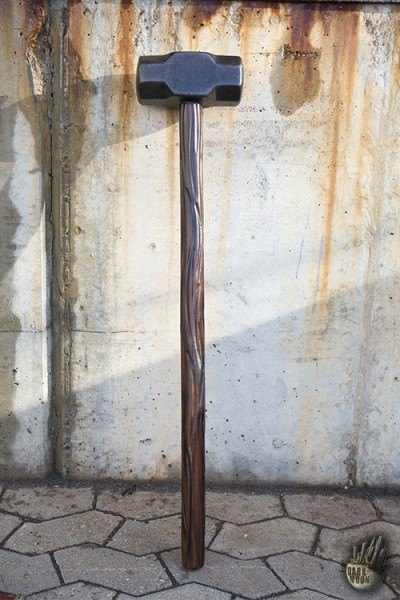 Please inform me as soon as the product is available again.
Product number:

17360150

Manufacturer number

403501
Because sometimes you need to be subtle. The trick is never to stay in one place for...
more
Product information "Sledge Hammer"
Because sometimes you need to be subtle.
The trick is never to stay in one place for too long. Inevitably the undead will sniff you out of your hiding hole, and you'll find yourself cornered by an endless sea of flesh-hungry abominations. Unfortunately your last encounter emptied the last of your bullets. With an empty gun you're defenseless.
You take refuge in an abandoned garage, looking for a new weapon. That's when you spot the Sledge Hammer tucked away behind a few old brooms and a broken mop. You give it a test swing, smashing through the remains of an old workbench. Nice. Very nice.
DETAILS
Dark Moon's Sledge Hammer is a 90 cm long latex weapon that is effective against zombies and brutish raiders alike. The Sledge Hammer's head is symmetrical, reaching 18 cm long with two 8 x 8 cm faces designed to deliver a fatal blow to your enemies. Sculpted and handpainted to look like metal, the head is attached to a dark wood-coloured 80 cm long haft.
Made from durable closed cell foam around a solid fibreglass core and finished with a strong latex coating, you can feel confident that this LARP weapon will provide the safety and appeal you want when crafting your post-apocalyptic kit.
INSPIRATION
An example of a weapon you might find after the world-as-we-know-it ends
Used as protection when you've inevitably run out of bullets for your gun
Sledgehammers are often used in destruction work, breaking through walls and masonry
| | |
| --- | --- |
| Maintenance: | Treat with Silicone Maintenance Spray after each use for best results |
| Width: | 8cm |
| Depth: | 8cm |
| Weight: | 350g |
| Height: | 92cm |
| Material: | EVA, Latex |
| Epic Circle: | Dark Moon |
Related links to "Sledge Hammer"