Article successfully added.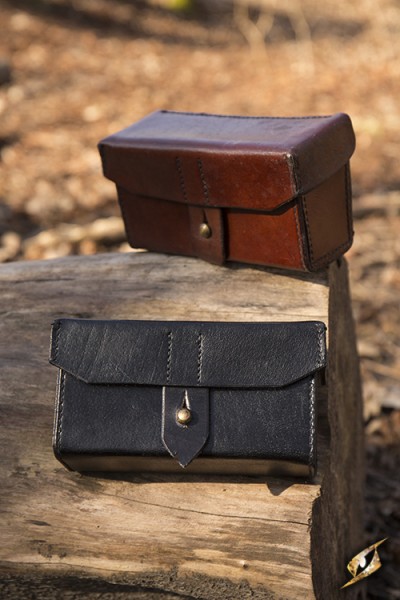 A rectangular box of hardneed leather suitable for carrying valuables into the thick of the...
more
Product information "Imperial Leather Bag"
A rectangular box of hardneed leather suitable for carrying valuables into the thick of the field.
just try not to fall over on top of it. The bag will win that one.
Sneaking through the bandit's hideout, you pause as a particular chest catches your eye. A true adventure always comes with its fair share of loot, you think, as you inspect for traps. All seems well as you start to pick the lock, wondering what sort of treasure the bandits might be hiding.
The lid opens with an awful creak--you're sure someone will have heard it!--and as you look inside you are excited to find the entire chest full of stolen coins and gems. You don't have much time as you scoop several handfuls into your Imperial Leather Bag, thanking the fact that your bag is big enough to carry so much, before you jingle toward the exit.
It's about time something good came out of this journey!
DETAILS
Epic Armoury's Imperial Leather Bag is a rigid leather box intended to hang from the belt. The lid is deep and overlaps the bottom in order to keep the contents safely inside. It is locked by pushing a brass knob through the front leather strap, and is attached to the belt using the two leather straps on the back.
The Imperial Leather Bag is made from vegetable-tanned, full-grain leather and is stitched around the edges to ensure a product that will withstand the abuse of a LARP or reenactment. The bag is low-fantasy, fully compatible with other Epic Armoury items, and can go with almost any character or universe you care to imagine.
HISTORY
Historically referred to and used like a "pocket" before pockets were added to clothing
Pouches worn at the belt have been found in Swedish and English burial sites pre-dating 1000 A.D.
| | |
| --- | --- |
| Epic Circle: | Sovereign |
| Height: | 16cm |
| Width: | 9cm |
| Weight: | 250g |
| Material: | Leather |
| Maintenance: | Use leather wax regularly to prolong product life. Only clean using proper leather soap, following instructions closely. |
Related links to "Imperial Leather Bag"
Read, write and discuss reviews...
more
Customer evaluation for "Imperial Leather Bag"
Write an evaluation
Evaluations will be activated after verification.