Article successfully added.
Black Ice Set - Heavy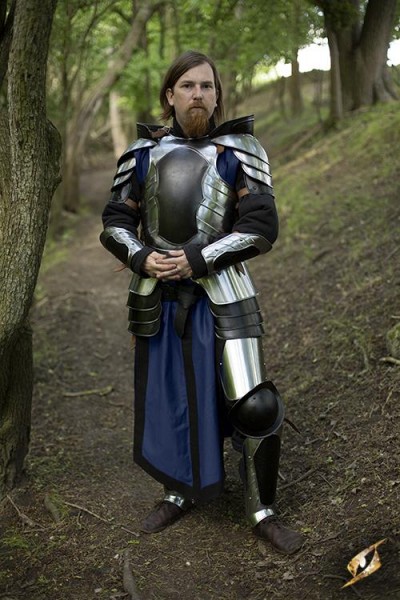 You are a Rahk of the Black Ice Essence, a physical manifestation of perfection and complete...
more
Product information "Black Ice Set - Heavy"
You are a Rahk of the Black Ice Essence, a physical manifestation of perfection and complete unification. You march in unison and you fight in unison with all the soldiers and the officers of your unit. Together you are efficient.
The mortal races will all become assimilated in time. When everyone becomes an aspect of your Essence, the world will finally be perfect.
DETAILS
This bestselling armour set includes Epic Armoury's Black Ice Breastplate, Backplate, Shoulder Plates, Full Legs, Arm and Leg Protection, Tabard, and Belt in order to fully gear your costume needs at a lower cost. Each armour piece is made from mild steel with rolled edges and top-grain leather straps and fittings, built to withstand the abuse of a LARP or reenactment while keeping the user safe and comfortable. With regular leather and metal armour care, you can expect this armour set to last for a long time!
Available in size Medium and Large.
Breastplate & Backplate
A suit of armour made for the most intimidating enemies on the battlefield, featuring front and back plates, faulds and tassets. With a polished steel and black paint finish and gothic-inspired accents, protect your entire torso while looking impressive. The matching breast and back plates extend below the abdomen, connecting to faulds and tassets: a series of overlapping, modelled metal plates protecting the weak spots at the pelvis and upper legs.
Shoulder Plates
This fully articulated armour is designed to provide protection for the shoulders and head while allowing freedom of movement. The shoulders are composed of articulated spaulders covering the shoulder, upper arms and molded to deflect hits toward the neck and head. The shoulder plates are strapped onto the chestplate.
Full Legs
An essential for any person wanting to protect the legs while in battle. Consisting of cuisses to protect the lower thighs, black painted poleyns covering the knees, and half black demi-greaves protecting the upper shins, you're less likely to take a pesky arrow to the knee--thus increasing your adventuring days. Three leather straps--one around the thigh, one below the knee, and one to attach to the belt--are used to keep each piece in place.
Arm Protection & Leg Protection
An essential for any person intending to experience the battlefield. Due to these vambraces' and greaves' austere style, this packaged deal is an armour solution that is particularly well suited for a dark and serious character with ill-intention. Two top grain leather straps are used to keep each piece in place.
Tabard
A sleeveless, open-sided garment worn over any outfit or set of armor, often with a belt. This particular tabard is a tasteful violet-blue with black trim. Whether you are a one-man army wanting to stand out, or you are in a unit of soldiers and want to blend in, you will appear full of style, class, and distinction by wearing the Black Ice Tabard.
Belt
A top-grain black leather belt with a brass buckle and studs, designed to hold up the Black Ice Full Leg guards. This belt can also be worn over the Black Ice Tabard when not on the battlefield for a more casual look.
| | |
| --- | --- |
| Epic Circle: | Stygian |
| Weight: | 15760g, 16100g |
| Material: | 19ga Mild Steel |
| Maintenance: | Regularly apply lanolin based lubricant for best results. |
Related links to "Black Ice Set - Heavy"
Read, write and discuss reviews...
more
Customer evaluation for "Black Ice Set - Heavy"
From:
Steve Karambetsos
On:
1 Feb 2017
Oh yes.
This is a fantastic set and looks epic.

Write an evaluation
Evaluations will be activated after verification.